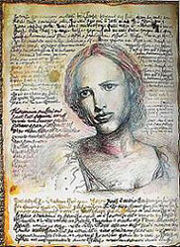 The Chosen One was a prophecy by Milo Rambaldi found on Page 47 that stated that whoever the Chosen One was, would bring forth Rambaldi's works and bring about complete destruction. Most consider Sydney Bristow to be The Chosen One, who was born hundreds of years after the prophecy was made.
As stated by Carson Evans of the Department of Special Research when Sydney was apprehended, the Rambaldi prophecy was translated from that on Page 47 of his manuscript (The Prophecy). It stated:
The identity of the Chosen One
[
edit
|
edit source
]
Sydney Bristow tried to disprove that the prophecy refers to herself by climbing Mt. Subasio, however, this was later confirmed to be a misinterpretation of the meaning of the prophecy as the "beauty of my sky behind Mt. Subasio" referred to what Sloane saw in the cavern using the amulet recovered from "The Rose" and prevented Sydney from seeing.
After Sydney removed the chances of her being 'The Chosen One' by visiting Mt. Subasio, the DSR refocused their efforts on trying to track down Derevko who they then believed to be The Chosen One after it was revealed she was still alive and would also resemble the person described in the manuscript and in the picture due to her being Sydney's mother.
Espinosa was subjected to Project Helix to become Sydney's double in an attempt to become The Chosen One herself.
Community content is available under
CC-BY-SA
unless otherwise noted.