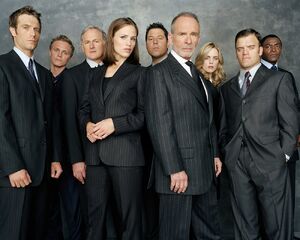 Season 3 of Alias aired from September 28, 2003 till May 23, 2004. It featured Sydney's attempts to find out what happened to her in the two year absence she faced as a result of The Covenant and her efforts to deal with how things changed in the time she was gone.
The third season takes place two years after the events of Season 2, with Sydney having been missing and presumed dead. DNA evidence in a badly burned body confirmed her death to her family and friends.
The truth, however, is that Sydney was kidnapped by a terrorist organization called The Covenant, who tried to brainwash her into believing she was an assassin named Julia Thorne. Eventually Sydney voluntarily had her memories of the two years erased in an attempt to forget some of the deeds she was forced to undertake as Julia and to ensure that one of Rambaldi's most dangerous artifacts would never be found.
As Sydney recovers, she begins investigating her absence while reintegrating into the CIA. There she deals with the facts that Arvin Sloane had become a world-renowned humanitarian after being pardoned, and that Michael Vaughn had married NSC agent Lauren Reed. Reed is later revealed to be a member of the Covenant and a lover of Julian Sark. The National Security Council plays a role as a government organization that holds massive unsupervised power, with a Guantanamo-like detention facility, considerable influence over the CIA, and driven by questionable motives. Sydney later discovers that her mother and Arvin Sloane had a child together, the result of an affair between the two, twenty-five years earlier. She locates her half-sister, Nadia, and rescues her from being killed by the Covenant.
At the end of the season, Sydney goes on a mission and encounters Lauren. after they battle,Lauren begins to taunt Sydney by saying she has information about her past. When Vaughn shows up, Sydney goes to him, leaving Lauren a chance to attack again. Vaughn shoots Lauren, and she dies, but before she does she gives Sydney the number of a security deposit box where she can find information about her past.
A seven-minute animated short entitled Animated Alias: Tribunal was produced for the DVD release of the third season. The short takes place between the second and third seasons.
#
Image
Title
Airdate
01
The Two
September 28, 2003
Sydney tries to piece together the last two years of her life and discovers the fates of her friends and family. She confronts Vaughn about his marriage and learns the shocking fates of Jack and Sloane. Meanwhile, she is granted temporary CIA clearance on a case that may help her regain her memory.
02
Succession
October 5, 2003
Sydney's search for her past leads to a jailed Sark, but their Q&A is cut short when he becomes the ransom for a pair of abducted CIA scientists, whose kidnappers may be tied to the murder of his father. Jack contacts an old friend of sorts for info on Sloane's new world-peace project, and Vaughn makes a decision about his future as an operative.
03
Reunion
October 12, 2003
Sydney and Vaughn are reunited again as a team to prevent Sark from destroying the nation's satellite communications system. Meanwhile, Jack must find a way to stop Marshall from uncovering the identity of a familiar murderer. Sydney accompanies Vaughn and Lauren as they meet with Sloane to ask for a favor.
04
A Missing Link
October 19, 2003
Sydney discovers a link to her missing two years in the form of Simon Walker, the dangerous leader of a group determined on retrieving deadly biological weapons. Jack takes matters into his own hands to protect his daughter, purposefully revealing Sydney's deadly secret to Dixon in order to preserve her position inside the CIA.
05
Repercussions
October 26, 2003
While Vaughn's life hangs in the balance, Lauren butts heads with Sydney after learning the part she played in his stabbing. Meanwhile, Sydney further questions Sloane's allegiances after he is kidnapped by Kazari Bomani, a kingpin in The Covenant. Jack's cover is jeopardized when he meets with Simon to dig up information on Sydney's missing two years.
06
The Nemesis
November 2, 2003
Sydney's emotions are turned inside-out when she comes face-to-face with Allison, Francie's doppelgänger, who was presumed dead but is now a key figure in The Covenant. Meanwhile Lauren's search for Lazarey's murderer leads her closer to discovering a connection to Sydney, and Sydney begrudgingly is assigned as Sloane's CIA handler.
07
Prelude
November 9, 2003
Jack takes drastic measures to ensure that the NSC never finds out the truth about Sydney's murder of a Russian diplomat. But his actions place a heavy strain on Vaughn's marriage, as Lauren gets closer and closer to the truth about Sydney. Meanwhile, Sydney agrees to go on a mission with Sloane in order to thwart plans to obtain the operating system to a deadly weapon -- and she discovers an unlikely ally in the hunt for her missing two years.
08
Breaking Point
November 23, 2003
When Sydney is taken into custody by the NSC, Jack and Vaughn have no choice but to ally themselves with Sloane to rescue her. As they put together an extraction team, Lauren faces an impossible choice -- side with the NSC, who she wants to believe is doing the right thing, or with her husband.
09
Conscious
November 30, 2003
After making a shocking discovery in the desert, Sydney agrees to submit to an experimental procedure conducted by an eccentric doctor, designed to retrieve her lost memories. But while Jack and Vaughn look on, Sydney's mind proves surprisingly resistant to letting her remember her missing time -- and the process of recovering it could end up killing her.
10
Remnants
December 7, 2003
The identity of the mysterious "St. Aidan" forces Sydney to pull a stunned Will out of witness protection. But the pursuit sends the two old friends on a collision course with Allison -- the woman who ruined both their lives. Meanwhile, a jealous Lindsey arrests Jack and Vaughn as conspirators in Sydney's escape from NSC custody.
11
Full Disclosure
January 11, 2004
When the Department of Special Research seizes the Rambaldi Cube from the CIA, Sydney thinks she's lost another chance to find out what happened to her missing time. But FBI Director Kendall lets her in on a huge secret, revealing how her destiny has always been on a collision course with Milo Rambaldi.
12
Crossings
January 18, 2004
Jack contacts a mysterious woman with ties to Irina to help him free Sydney and Vaughn, who have been captured and face a North Korean firing squad. But Jack is faced with a curious conundrum when the woman tells him that she will not put the rescue plan in motion until he fulfills a favor - assassinate Sloane.
13
After Six
Febraury 15, 2004
Sydney and Vaughn are sent to retrieve the Doleac Agenda to gain an advantage over The Covenant. For this, Sydney and Weiss must convince rogue security systems designer Toni Cummings to help the CIA break into a Lethal Response System. Meanwhile, Sark approaches an unlikely ally to kill the Covenant's Cell leaders.
14
Blowback
March 7, 2004
While trying to retrieve a bomb, Sydney and Vaughn are ambushed by unidentified assailants. Meanwhile, Lauren and Sark continue to solidify their new partnership, Sloane divulges a dark secret to Dr. Barnett and Marshall shows the strains of new fatherhood.
15
Façade
March 14, 2004
Sydney and Vaughn must convince bomb maker Daniel Ryan that they are part of The Covenant in order to find out where he has hidden one of his devices. But Sydney discovers that her ties to the bomber could lead him on a suicide mission.
16
Taken
March 23, 2004
When Dixon's children are kidnapped by The Covenant he faces a tough task. With no choice, he steps down as director and enlists Sydney's help in a desperate plan to safely retrieve his children from Sark. Lauren is put to the test as a double agent when she has to work with her father.
17
The Frame
March 28, 2004
Sydney and Vaughn must track Kazari Bomani down to get hold of a piece of the Rambaldi puzzle. Meanwhile, Jack reveals his suspicions to Senator Reed about his daughter Lauren's allegiances, and Vaughn decides what to do about his marriage.
18
Unveiled
April 11, 2004
Sydney and Jack warn a disbelieving Vaughn about their suspicions of Lauren being the Covenant mole inside the CIA. Meanwhile, Bomani and Sark take possession of the Rambaldi machine, Sydney and Vaughn must stop a Covenant virus that's crippling medical facilities around the world, Sloane's secret is revealed to Jack.
19
Hourglass
April 18, 2004
After finding out that Lauren is working for the Covenant, Vaughn is told to keep up the façade of a happy marriage in order to keep tabs on his wife's activities. But he's in for a shock when he uncovers the truth about Lauren's mother, Olivia. Meanwhile, Jack refuses to help exonerate Sloane of his crimes and put in motion a stay of execution, and a monk discloses the identity of the Rambaldi "Passenger" to Sydney.
20
Blood Ties
April 25, 2004
After discovering the identity of the Rambaldi "Passenger," Sydney and Jack seek the aid of Sloane, to track the "Passenger" down. Meanwhile, after learning a secret about his father from Thomas Brill, Vaughn is kidnapped and tortured by Lauren and Sark, who are about to track "The Passenger" down themselves.
21
Legacy
May 2, 2004
With the aid of Katya Derevko and CIA imprisoned security systems designer Toni Cummings, Sydney and Vaughn attempt to track down Sloane and Nadia. But Lauren and Sark are also in hot pursuit of them in order to uncover the secrets of Rambaldi. While Vaughn's obsession with tracking down Lauren is beginning to consume him, Sydney and Vaughn turn the tables on an old foe.
22
Resurrection
May 23, 2004
Vaughn comes face to face with his darkest demons in pursuit of his wife; Nadia must decide whether or not she can trust her father in the pursuit of Rambaldi's most priceless artifact; and Sydney receives a shattering revelation that will make her question everything - and everyone - she thought she could trust.
Community content is available under
CC-BY-SA
unless otherwise noted.