Jurassic World: Dominion Dominates Fandom Wikis - The Loop
Play Sound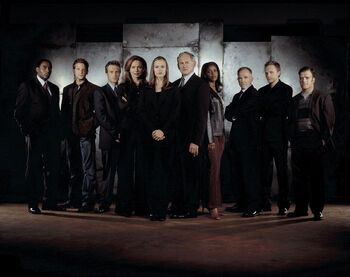 Season 2 of Alias aired from September 29, 2002 till on May 4, 2003. It featured Sydney's continued work with the CIA, the takedown of SD-6, Sloane's next phase of plans and a deeper delving into the work of Milo Rambaldi.
Synopsis
[
]
The second season begins with the introduction of Irina Derevko, Sydney's mother, who soon becomes a vital part of the series. Midway through the second season, the series underwent a "reboot" of sorts with Sydney successfully destroying SD-6 (after gathering valuable intelligence for tactical strikes from an airborne SD-6 server) and becoming a regular agent for the CIA, still in pursuit of former SD-6 leader Arvin Sloane, his associate Julian Sark, and the Rambaldi artifacts. Sydney's friends at SD-6, Marcus Dixon and Marshall Flinkman, are finally made aware of her dual identity and recruited into the CIA. Sydney also begins a romantic relationship with Vaughn, now that their relationship will not endanger them.
In the second half of the season, it is revealed that Francie Calfo, Sydney's best friend, was murdered and replaced by Allison Doren, a woman who was transfigured to look exactly like her. Allison was then in a position to spy on Sydney and Will. The end of the season saw Will critically injured and Sydney killing Allison, then falling unconscious. She awakens two years later in Hong Kong, unable to remember the two years that have passed. She soon learns that her friends and the CIA believed her to be dead, and Vaughn found a new love and is now married.
Timeline
[
]
Season 2 begins at the exact moment that Season 1 left off, therefore in early 2002. Assuming each episode takes place over the course of a week the season ends in late 2002, with a two year jump in the last few moments making it 2004.
This may not be entirely correct because Sydney tells Dixon that she had known the truth about SD-6 for two years. It is possible that the writers forgot about by the time they wrote the "amnesia" plot line.
Format
[
]
Similar to Season 1, the majority of the first half of the season sees Sydney undertaking missions with SD-6, only to then plan counter-missions with the real CIA and double-cross the terrorist organization. This is the case up until Phase One, when SD-6 is finally taken down and Sydney begins a regular job at the CIA. Throughout this section she undertakes missions in an effort to stop Arvin Sloane and discovering further mysteries about Milo Rambaldi.
Major subplots
[
]
The introduction of Sydney's mother, Irina Derevko, as a walk-in at the CIA.
Sydney's continued distaste for Arvin Sloane.
Francie's confusion over Sydney's lies.
Will's efforts to deal with the life he has to live after the events of Season 1.
Vaughn and Sydney's relationship after the destruction of SD-6.
The death of Francie and her replacement by Allison Doren, unbeknownst to her friends.
Cast
[
]
Main cast
[
]
*13 episodes as Francie and 8 episodes as Allison

[

]
Recurring cast
[
]
Episodes
[
]
#
Image
Title
Airdate
01
The Enemy Walks In
September 29, 2002
Sydney finds herself face-to-face with her mother, whose intentions for her daughter are made chillingly clear. Later, Sydney continues her search for Vaughn, not knowing if he is dead or alive after being swept away by a wall of water in Taipei.
02
Trust Me
October 6, 2002
Sydney must decide whether her mother's goodwill gesture was sincere or an attempt to kill her. Will witnesses Francie discussing her restaurant plans with a man whose affiliations are questionable, and Sloane is made a full partner in the malevolent Alliance of Twelve.
03
Cipher
October 13, 2002
Sydney must outwit Sark in order to find a crucial piece of intel. Meanwhile, Jack faces Irina for the first time in almost 20 years. Will finally meets Vaughn and Sloane is haunted by his wife's death. Sloane, who drinks only water is seen drinking whiskey in his office.
04
Dead Drop
October 20, 2002
Sydney's dealings with her mother lead Jack to take drastic measures to ensure his daughter's safety. Meanwhile Will is confronted by a mysterious woman about resurrecting his story on SD-6.
05
The Indicator
November 3, 2002
Sydney discovers a terrifying secret when she's sent on a case to track down a new generation of weapons. Meanwhile, Vaughn suspects Jack of setting up Irina to take a fall. Sloane tells Jack the truth about Emily's death.
06
Salvation
November 10, 2002
Sydney's trust in her father begins to fade. Meanwhile, Sydney and Vaughn may have been exposed to a deadly virus while in Taipei; Sloane, haunted by Emily's death, begins to unravel. Vaughn enlists Will to help research a case.
07
The Counteragent
November 17, 2002
Sydney races to find a cure for Vaughn, but in order to find the antidote, Sydney must make a deal with Sark that could endanger Sloane's life. Meanwhile, Will continues his research for Vaughn and discovers some disturbing inconsistencies involving 20-year-old standardized IQ tests.
08
Passage (Part 1)
December 1, 2002
Sydney, Jack and Irina must put aside their differences and go undercover as a loving family in order to seize six nuclear warheads from an abandoned facility in Kashmir. Meanwhile, Sloane announces to a suspicious staff that Sark will be working with SD-6.
09
Passage (Part 2)
December 8, 2002
Sydney and Jack continue on a mission to take control of six nuclear warheads. Irina meets up with Gerard Cuvee and we discover where Irina's loyalties lie. Meanwhile, Sloane informs the Alliance that Emily may still be alive.
10
The Abduction
December 15, 2002
Jack meets Alliance counterintelligence head Ariana Kane, who is sent in to investigate Emily's disappearance and to discover who is trying to blackmail Sloane. Meanwhile, Marshall is sent on his first mission with Sydney as his partner.
11
A Higher Echelon
January 5, 2003
After completing his first mission with Sydney, Marshall's life is placed in mortal danger. Meanwhile, Ariana Kane suspects Jack as being the prime suspect in the disappearance of Sloane's wife.
12
The Getaway
January 12, 2003
While Alliance counterintelligence head Ariana Kane tracks Sydney in order to catch her fugitive father, Jack elicits Irina's help in finding Sloane's blackmailer. Meanwhile, Sydney and Vaughn risk exposing their covers to SD-6 when they share a romantic dinner together
13
Phase One
January 26, 2003
Sydney and Jack are confronted by the new director of SD-6, one Geiger, who replaces Sloane, whose whereabouts and intentions are unknown. Sydney and Vaughn lead the team to raid SD-6 and shut down the Alliance.
14
Double Agent
February 2, 2003
Sydney, Vaughn and Jack must determine whether CIA agent Lennox is who he says he is after his deep cover mission is compromised in Berlin. It is discovered that an agency has built a machine capable of replicating a human being's appearance.
15
A Free Agent
February 9, 2003
Sydney must make a life-defining decision regarding her future with CIA, while Sloane re-emerges and continues his obsessive quest to piece together the mysterious Rambaldi artifacts -- with the reluctant aid of a kidnapped scientist named Neil Caplan.
16
Firebomb
February 23, 2003
Vaughn begs Dixon to aid the CIA in rescuing Sydney, Will is called upon to participate in a crucial CIA briefing session, and Sydney notices that something with Francie is not quite right.
17
A Dark Turn
March 2, 2003
Sydney begins to question where Vaughn's allegiances lie when she learns through CIA Agent Yaeger that he is under investigation. Meanwhile Irina and another crucial Rambaldi manuscript --this one about the secret of eternal life-- are used as bait to try to catch Sloane.
18
Truth Takes Time
March 16, 2003
Sydney faces off with her mother, while Emily must decide whether to side with her husband or betray him.
19
Endgame
March 30, 2003
Sydney defies her father in her attempt to rescue kidnapped scientist Neil Caplan, while Sloane, seeking revenge for the assassination of his wife orders that Dixon's wife be taken out.
20
Countdown
April 27, 2003
A Rambaldi manuscript prophesizes that an apocalyptic event involving a heart will soon take place. An agent is sent after one man in Panama in order to steal his heart. Dixon's grief leads Vaughn and agency psychologist Dr. Barnett to question his intentions.
21
Second Double
May 4, 2003
Sydney begins to question Will's identity when he's arrested for espionage, under suspicion of being a double. Meanwhile Sark and Irina plot to recover the Di Regno heart, and Sloane makes Jack a business proposal.
22
The Telling
May 4, 2003
Sydney finally confronts her mother, who reveals her true motivation. Sloane, for his part, begins to execute his new grand plan and Will struggles to figure out who's behind his set-up.
See also
[
]