Jurassic World: Dominion Dominates Fandom Wikis - The Loop
Play Sound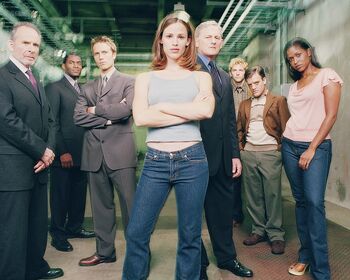 Season 1 of Alias began airing on September 30, 2001. It concluded on May 12, 2002, with the 22nd episode.
Apart from the pilot, the episodes in Alias are often unconventionally structured in that the title credits are usually shown well into the plot, almost as an afterthought. Also, usually a plot finishes at mid-episode and a new plot begins, so that every episode finishes with a cliffhanger. The impression thus created is that an episode will conclude the previous one and plant the seeds of the next one.
Synopsis
[
]
Seven years before Season 1, Sydney Bristow was an undergraduate student of English literature when she was approached with a job offer by someone claiming to work for SD-6, which was supposedly part of the Central Intelligence Agency. She accepted the offer, and quickly became a field agent. In the pilot, she tells her fiancé Danny that she is a spy. As a result of revealing SD-6's existence to an outsider, her fiancé is murdered by SD-6.
It is then that Sydney is told by her father Jack Bristow (another SD-6 agent) that SD-6 is not part of the CIA; instead, it is part of the Alliance of Twelve, an organization that is an enemy to the United States. Sydney decides to offer her services to the real CIA as a double agent. Her offer is soon accepted, and she begins the long and arduous task of destroying SD-6 from the inside. She quickly learns that her father is also a double agent for the CIA.
Major plotlines from Season 1 include Sydney hiding her triple-identity from her friends, both in her personal life and in her SD-6 job, Will Tippin's investigation into Danny's death, and the past activities of Sydney's mother. Sub-plots included Sydney's friendship with Francie, Francie's romantic relationship with Charlie, and Sydney's developing relationship with her CIA handler Michael Vaughn, of whom she is skeptical at first but grows to trust as her life becomes increasingly stressful. Season One focuses on the development of Sydney's character, and allows the audience to become familiar with her. The other seasons share the same theme of a guest star appearing throughout the entire season.
Cast
[
]
Main cast
[
]
Recurring cast
[
]
Episodes
[
]
#
Image
Title
Airdate
01
Truth Be Told
September 30, 2001
Sydney Bristow discovers that her job as an agent for SD-6, a top-secret division of the CIA, holds some deadly secrets that threaten the security of the free world. Sydney finds that her father, Jack, is also SD-6 and that the group is not part of the CIA, but actually an enemy of the United States.
02
So It Begins
October 7, 2001
Sydney returns to SD-6 and is assigned with Dixon to travel to Moscow to retrieve some stolen files. But when Sydney discovers that she has inadvertently given SD-6 access to a nuclear weapon, she is forced to travel to Cairo and face a deadly foe. Meanwhile, Will begins to question the circumstances surrounding Danny's death, and Sydney learns of her father's involvement in the murder.
03
Parity
October 14, 2001
Sydney's life is in mortal danger as she is sent to Madrid to retrieve a 500-year-old sketch that contains a set of numbers and meets up with her deadly nemesis, K-Directorate agent, Anna Espinosa. Meanwhile, Will delves deeper into the cause of Danny's death and discovers a very strange anomaly.
04
A Broken Heart
October 21, 2001
Sydney and Dixon go on a dangerous case involving the safety of the United Commerce Organization. Francie confronts Charlie about his secret date with another woman, and Will continues to get closer to the truth about Danny's murder.
05
Doppelgänger
October 28, 2001
Sydney's secret double agent status is jeopardized after smuggling a biotech engineer into SD-6 from her mission in Berlin. Will meets a woman who confesses that she was having an affair with Danny shortly before his death. Vaughn informs Sydney that her father may be working for a third secret operative agency.
06
Reckoning
November 18, 2001
Sydney goes undercover in a mental institution to get information from Shepard, a man who has been unconsciously programmed to be a deadly assassin. Will discovers the true identity of the woman who claimed to have an affair with Danny. Marshall finds the computer worm planted in the SD-6 mainframe by the CIA.
07
Color-Blind
November 25, 2001
While helping Shepard escape from the asylum in

Bucharest

, Sydney discovers the shocking connection he has with her past. Meanwhile, after tracking the computer virus secretly planted by the CIA, Sloane is confronted by Alliance representative Alain Christophe, who suggests that one or more moles may have infiltrated SD-6.
08
Time Will Tell
December 2, 2001
Sydney must undergo an extensive lie detector test to satisfy Sloane's frantic search for the SD-6 mole. Meanwhile, with nemesis Anna Espinosa following her every move, Sydney seeks out the connection that a device may have to the 500-year-old prophetic Rambaldi sketch.
09
Mea Culpa
December 9, 2001
Sydney's life is placed in mortal danger when Sloane is informed by his superior that she is the SD-6 mole. Meanwhile, Dixon's life hangs in the balance after he is shot on a mission, and Will realizes that his discovery of Kate Jones' pin could uncover some unexpected information.
10
Spirit
December 16, 2001
Jack has to find a way to save Sydney when he discovers that Sloane has ordered her tortured and killed for being the suspected SD-6 mole. Will may be making the mistake of his life when he begins to research a name heard on a mysterious audiocassette -- SD-6.
11
The Confession
January 6, 2002
Sydney is grateful and proud of her father after he saves her life while on a case in Havana. But her admiration is short lived when Vaughn discovers further evidence that Jack may have been responsible for the deaths of over a dozen CIA officers many years earlier.
12
The Box (Part 1)
January 20, 2002
When armed intruders take over SD-6, led by McKenas Cole, a man bent on exacting revenge on ex-boss Sloane, Sydney and Jack must work together to save their colleagues. Meanwhile, Will fears that his investigation of SD-6 and its link to the murder of Eloise Kurtz is placing his life in jeopardy.
13
The Box (Part 2)
February 10, 2002
Vaughn disobeys orders and attempts to help Sydney and Jack avert the destruction of SD-6 headquarters and all its occupants. Meanwhile, McKenas Cole continues his vendetta against Sloane and searches for a mysterious device.
14
The Coup
February 24, 2002
Sydney and Dixon are sent to Las Vegas to gather information from a K-Directorate agent who has ties to the group that attacked and nearly destroyed SD-6. Will begins his journey in discovering what SD-6 really is.
15
Page 47
March 3, 2002
Vaughn asks Sydney to use her friendship with Sloane's wife, Emily, to gain access to a mysterious Rambaldi book which happens to be under lock and key in a safe at Sloane's home.
16
The Prophecy
March 10, 2002
Sydney is tested by the DSR to discover her mysterious link to a chilling 500-year-old picture and prophecy foretold in a Rambaldi manuscript. Meanwhile, after uncovering the identity of the rogue group leader, "The Man," Sloane learns through fellow Alliance of Twelve member Edward Poole that a close friend may be in cahoots with the enemy.
17
Q&A
March 17, 2002
While the FBI detains and questions Sydney about her past and possible ties to a mysterious Rambaldi doomsday prophecy, Vaughn and Jack must race to free her and find a way to clear her name before her cover is blown and SD-6 is made aware of the situation.
18
Masquerade
April 7, 2002
While on a case to track the activities of Khasinau, Sydney runs into her ex-lover, Noah Hicks, who broke her heart and left without saying goodbye five years earlier. Jack is ordered to see CIA psychiatrist Dr. Barnett to help him deal with his churning emotions after discovering that his wife may still be alive.
19
Snowman
April 14, 2002
Sloane begins to question where Noah's true allegiances lie, as passion ignites between Sydney and Noah. A rogue assassin known as the Snowman is dispatched by K-Directorate to kill Khasinau, a.k.a. "The Man".
20
The Solution
April 21, 2002
In order to catch Khasinau and get closer to finding her mother, Sydney and Vaughn set up an undercover transaction for a Rambaldi artifact with Khasinau's representative, Mr. Sark. But Sydney's cover may be compromised when a SD-6 agent is sent in to thwart the sale.
21
Rendezvous
May 5, 2002
Will's life is about to change as he is sent to find the person responsible for leaking information to him about SD-6. Meanwhile, Sloane finds himself on the cusp of finally tracking down Khasinau when SD-6 captures "The Man's" right-hand man, Sark. Dixon becomes suspicious of Sydney's activities.
22
Almost 30 Years
May 12, 2002
In order to save Will's life, Sydney and Vaughn must destroy a familiar looking Rambaldi device, while Jack makes a risky deal with Khasinau's representative, Mr. Sark. The Alliance comes to a decision regarding the fate of Emily Sloane and Sydney finds herself face-to-face with "The Man."
See also
[
]