Michael Vartan (Boulogne-Billancourt, 27 november 1968) played Michael Vaughn during all Alias seasons.
Biography
Early Life
Personnel  Life
Over the coruse of his relationalship  with his Alias co star- Jennifer Garner from August 2003 to March 2004, He never was with her in Public. On  March 5, 2010 he announded that he was engagement to Laruen Skarr which he met her in a food market. They got married on April, 2, 2011 in Calfinoia. He started liking Austrilla after in 2007 he did the movie Rogue.
Filmography
1988
Black Leather Jacket
Motorcycle Boy
Documentary
1991
Un homme et deux femmes
Fred
1992
Stringer
Chris
Promenades d'été
Thomas
1993
Fiorile
Jean/Massimo
1995
To Wong Foo, Thanks for Everything! Julie Newmar
Tommy
1996
The Pallbearer
Scott
1997
Touch Me
Adam
Friends
Dr. Tim Burke
The Myth of Fingerprints
Jake
1998
The Curve
Chris
1999
Never Been Kissed
Sam Coulson
2000
It Had to Be You
Charlie Hudson
The Next Best Thing
Kevin Lasater
Sand
Tyler Briggs
2001
The Mists of Avalon
Lancelot
Television miniseries
Alias
Michael Vaughn
Television series,
2002
One Hour Photo
Will Yorkin
2005
Monster-in-Law
Dr. Kevin Fields
Kitchen Confidential
French chef
Television series
2007
Rogue
Pete McKell
completed
Big Shots
James Walker
television series
2008
Jolene
Brad
2009
Hawthorne
Dr. Tom Wakefield
television series
2009
Demoted
Rodney
2010
High School
Calculus Teacher
| 2012 | Ring Of Fire | Dr. Mathew Cooper | mini series |
| --- | --- | --- | --- |
External links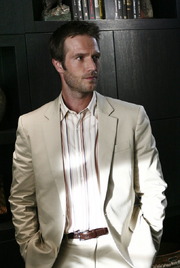 Community content is available under
CC-BY-SA
unless otherwise noted.