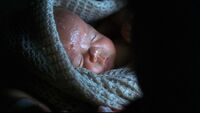 Isabelle Vaughn (born 19 April 2006) is the daughter of Sydney Bristow and Michael Vaughn. She is the older sister of Jack Vaughn. When her father was in the hospital, her parents were discussing names her mother suggested Isabelle, and her father was the one who decided what her name should be. So he named her Isabelle Bristow Vaughn.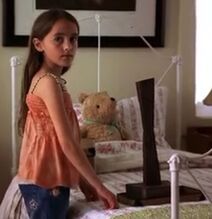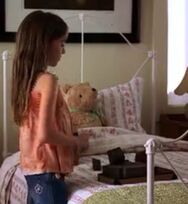 Isabelle was conceived shortly before Michael Vaughn's supposed "death" (Prophet 5). Despite her pregnancy, Sydney continued to work at APO, saying that she could not just sit at home and be pregnant whilst people who killed Vaughn and could threaten her baby were still out in the world (Solo). With her father, Sydney built Isabelle's crib and discussed how she could look after the baby on her own with Rachel Gibson, who comforted her by saying that she would be a great mother (Fait Accompli). Sydney eventually gave birth to Isabelle, with the help of Irina Derevko who delivered, and Jack Bristow who comforted her (Maternal Instinct). She continued to look after the baby but had to return to APO to help her old friend Will Tippin when he was threatened. After the threat subsided she introduced Will to Isabelle (There's Only One Sydney Bristow). Nadia Santos, Sydney's sister, also spent time with Isabelle before Nadia was killed (30 Seconds). When Vaughn finally returned he was overjoyed to meet his daughter. He and Sydney lay in bed discussing normal jobs for Isabelle as opposed to being a spy whilst the baby lay inbetween them (No Hard Feelings).
Several years later, when Isabelle was seven, the family was living in a beach house far away from APO and the US government. She called as "Uncle Dixon" approached and she hugged him affectionately. As Sydney and Vaughn spoke with Dixon, Isabelle went to her room where she found the block puzzle that Jack Bristow had used on Sydney to evaluate subjects for Project Christmas. She completed the puzzle with ease, but knocked it over, suggesting that she would not follow a similar life to that of her mother (All The Time In The World).
It was hinted in the first several episodes of the fifth season that Prophet 5's endgame involved the unborn baby Isabelle. In DVD commentaries, the writers state that this plotline was dropped as they considered it too cliché.
All the time in the world  was the first we heard Isabelle talk.
Her middle name is her mothers last name Bristow.
Community content is available under
CC-BY-SA
unless otherwise noted.