Aurine-12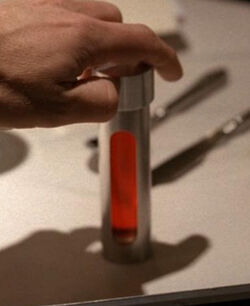 First Mentioned
{{{firstmentioned}}}
Last Mentioned
{{{lastmentioned}}}
Mentioned In
{{{mentioned}}}
Aurine-12 was an unstable and dangerous isotope that Yuri Komarov tried to sell on a train to Kazu Tamazaki.
Season 4
[
]
Komarov, Russia's top nuclear scientist, went missing. APO managed to track him down and discovered that he was trying to sell the highly dangerous isotope on a train from Belarus to Latvia.
APO agents Sydney Bristow and Michael Vaughn managed to stop the transaction, with Sydney incapacitating Komarov and taking the isotope and Vaughn giving the buyer a fake product which APO could track.