Alameda Yards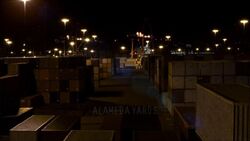 First Mentioned
{{{firstmentioned}}}
Last Mentioned
{{{lastmentioned}}}
Mentioned In
{{{mentioned}}}
Alameda Yards was a containment unit in Malaga, Spain where Martin Bishop stored the Valta computer.
Sydney discovered that Alameda Yards was the location of the Valta, and a CIA team was sent there. The team destroyed the Valta but was captured, and Bishop realized Sydney worked for the CIA. He took her to Alameda Yards and tied her up there along side Eric Weiss, leader of the CIA team. The two managed to break free and kill Bishop.
Community content is available under
CC-BY-SA
unless otherwise noted.