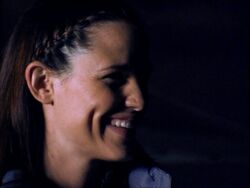 A Chat With Jennifer Garner (also known as Jen & Ken: A Chat With Jennifer Garner) is a special feature found on the Season 4 DVD.
Synopsis
[
]
The feature begins with an explanation that the interview is on location on a warehouse roof in San Pedro, California on April 26.
Then the interview begins; Ken Olin (executive producer) talks with Jennifer Garner about coming to the end of the fourth season, and how they will be going on to do a fifth season. Garner says that working with Mia Maestro has been the best thing this season, and she is very "elegant." She goes on to say that J.J. Abrams always casts great women then takes them away, and she didn't want him to kill Mia's character, Nadia. They talk about how well she fit in with other members of the cast, and how fun she is, comparing her to Melissa George and Lena Olin.
Olin then talks with her about the episode that she directed in Season 4, "In Dreams...". Garner says that she was never interested in directing before because her own job was enough, but by the time it came to this episode she was so familiar with the format it did not take too much time away from her job. After pressure from the crew and another director had to leave she was signed on to direct an episode. Olin says that everyone said she did well. She says that she sees it as being different from other episodes of Alias, yet in a good way. She credits the writer for creating good scenes.
Olin then talks about his first experience directing an episode of Alias, and says that because he did a lot of acting before he assumed he would be able to figure it out, but it did not come as easy as he expected. Garner talks of Richard Coad, first A.D., and says how helpful he was in the directing process. They both talk of how scary it was when they first directed Ron Rifkin (Arvin Sloane), but that he enjoyed being in intense scenes as they had directed him in.
Garner then talks through the storyline of the final two episodes of Season 4.